Hardscaping is one of our areas of expertise.
Hardscaping includes many different elements of the outdoor space on a property, while excluding the living components of the landscaping. Examples of hardscaping elements that we specialize in include retaining walls, patios, walkways, and pathways. Adding more hardscape elements to your yard can improve the overall appeal and functionality, as well as complement the landscaping elements you've placed, including any grass, flowers, bushes, and trees.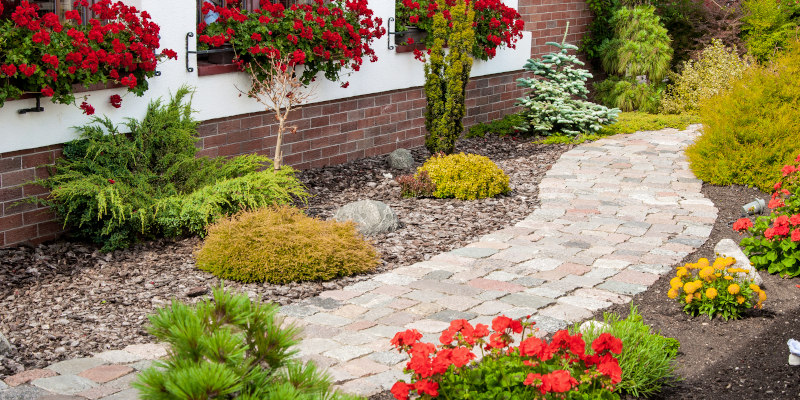 At Greater Orlando Lawnscapes Inc., hardscaping is one of our areas of expertise. We work with property owners throughout Oviedo, Florida to install and maintain elements of hardscaping in both the front and back yards. Our services include paver patio design and installation, as well as the design of other hardscaping components that will improve the appeal and functionality of your outdoor space.
In this area, our warm weather throughout much of the year allows locals to use their yards more often than in other parts of the country. By adding more hardscaping to your yard, we can create seating areas, places to cook and enjoy meals, and even reduce the risk of flooding through the addition of irrigation systems and French drains, where needed. With more than 25 years of experience in the softscape and hardscape design world, we're confident in our abilities to deliver results you'll love and enjoy every time you head outdoors. We'll go through every step in the process, including the cost of the project and the expected timeline, so you know what to expect throughout the design and installation of your new hardscape.
FAQs About Adding Hardscaping to Your Yard
Creating beautiful outdoor living spaces is what we do at Greater Orlando Lawnscapes Inc. One of the services we provide includes hardscaping, and we've answered a few common questions we get about this service down below.
What is hardscaping?
The term hardscaping refers to all the non-living elements within a landscape. These elements can be installed before the addition of plants or later on during the landscaping process.
Does my yard need hardscaping?
Yes! The ideal outdoor living space combines both hardscaping and landscaping features. Both complement the other and create an outdoor living space that is both beautiful and functional.
What are some examples of hardscaping?
Some of the most common hardscaping features we install include patios, walkways, and retaining walls. We customize these projects according to the specific yard we are working on to capitalize on its aesthetics and provide the most functional features possible.
Why should I choose you for hardscaping services?
For starters, we have over 25 years of experience doing hardscaping work. Thanks to this experience, we understand what constitutes quality workmanship. We also know how to exceed the expectations of our customers with our service.
How do I get an estimate?
If you are interested in adding hardscaping features to your yard, we want to give you an estimate before moving forward with the project. Reach out to us directly and one of our landscaping professionals will book a convenient time with you to provide an estimate.
---
At Greater Orlando Lawnscapes Inc., we offer hardscaping services to those in Oviedo, Orlando, Winter Park, Longwood, Winter Springs, Lake Mary, Waterford Lakes, Maitland, Casselberry, Lake Nona, Sanford, and Altamonte Springs, Florida.