You will love our design, process and results.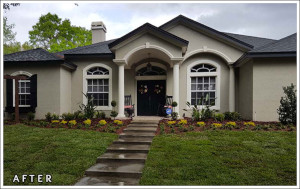 A good landscaping design can greatly impact your yard space. Here in the Oviedo, Florida area, we are able to spend a lot of our time outdoors, and our landscaping and hardscaping should be as carefully considered and tailored as the interior of our homes! Here at Greater Orlando Lawnscapes Inc., we understand what it takes for wonderful indoor/outdoor living and want to help you match your outdoor landscaping and design needs to your carefully chosen indoor comforts.
Here at Greater Orlando Lawnscapes Inc., our focus has always been on helping our customers. When you work with us, you can still contact our owner directly at any point during our construction process, from the design to the installation and completion! It is this attention to detail, ensuring that we work with quality workers rather than outsourcing and commitment to communication that has earned us an A+ BBB rating during our decades of being in business.
We are committed to making your landscaping and hardscaping work for your property and ensure it stays comfortable through the seasons. We work with everything from planting trees and sod to hardscaping options and French drains to keep your yard from being a habitat for mosquitos. Our commitment to quality and customer comfort sets us apart, and we would love to prove it to you.
If you have questions about our team here at Greater Orlando Lawnscapes Inc., we invite you to give us a call for a free quote on any of our services today.