Your landscape design can include any of our landscaping services, including tree installation, sod installation, mulch installation, and more.
It would be a shame to live in such a beautiful Florida climate and yet not have that same beauty for your outdoor spaces. At Greater Orlando Lawnscapes Inc. in Oviedo, Florida, we enjoy transforming properties with the right landscape design that fits each customer's vision. No two families are identical in their objectives, so we take the time during a complimentary consultation and assessment of the property to formulate a plan. With both landscape design and hardscape design experience gained over the past 25+ years, we are confident we can turn your property into a veritable oasis that you'll be proud to show off.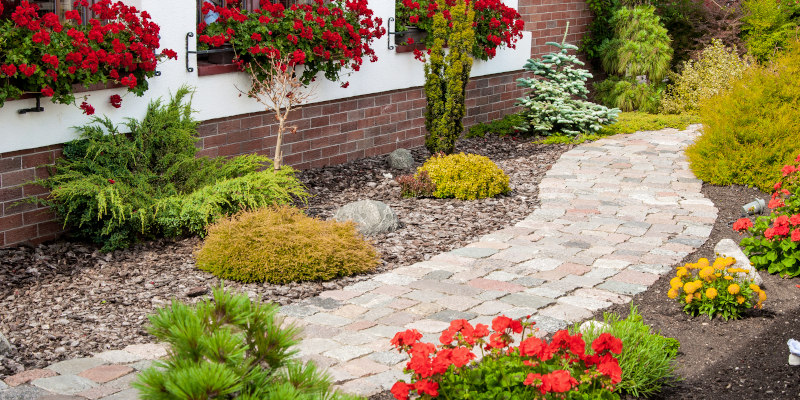 Your landscape design can include any of our landscaping services, including tree installation, sod installation, mulch installation, and more. In addition, we also offer a variety of hardscape design services, such as installing decorative pavers for a beautiful and functional patio and/or walkway. We will also ensure that your landscaping prospers by overcoming issues of too much water or too little as we also install irrigation systems and French drains.
Once a landscape design has been formalized and you are aware of the costs and timeline, we get to work to bring your vision to life. With our experience and dedication to quality materials, you can be confident that you'll love the result when we are done and for years into the future. If you have any questions about landscape design or any of our services, don't hesitate to reach out to us.
Landscape Design FAQs
The right landscape design can make a world of difference on your property! Whether you want your landscape design small or large, wild or manicured, simple or complex, finding the right design is imperative. Here at Greater Orlando Lawnscapes Inc., we want to help you make the most of your landscape design. We have worked with many clients over the years and have come across some of the same questions repeatedly. We hope this frequently asked questions (FAQ) section will be able to assist you. Consider some of our FAQs:
What does a landscape design include?
Our landscape designs include a variety of different features to beautify your outdoor space including tree planting,
sod installation
, mulch, and much more.
Do you utilize hardscapes as well as landscapes?
Yes! We know that a great landscape is balanced by hardscapes such as patios, walkways, curbing, edging, etc., and can help you determine the appropriate overall layout for your space.
Will we talk about watering needs/drainage?
Of course! The best landscape design is one that takes all factors into account. We want your plants to last and be easy to enjoy, so we will discuss the watering needs, drainage and even the need for French drains in some areas, if applicable.  
How much experience do you have?
We have been working on landscape designs all over the area for over 25 years now.
If you have been considering changing up your dull landscape design and would like to work with experienced experts, we are here for you. For more information about our variety of services, please give us a call today.
---
At Greater Orlando Lawnscapes Inc., we offer landscape design services to those in Oviedo, Orlando, Winter Park, Longwood, Winter Springs, Lake Mary, Waterford Lakes, Maitland, Casselberry, Lake Nona, Sanford, and Altamonte Springs, Florida.