We will make your landscaping, lighting, and hardscaping come together for optimal effect.
If you subtract anything about your outdoor living areas that is alive, what you have left is hardscaping. The goal of hardscaping is to work in harmony with landscaping to create an appealing and functional environment. At Greater Orlando Landscapes Inc., we aren't your typical landscaping company because we also have expertise in hardscaping and making the two work together.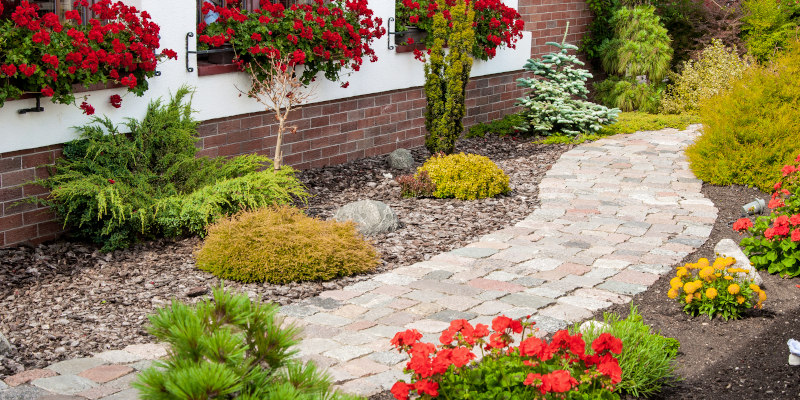 Our hardscaping products and services include paver patio installation, paver patio design, walkway installation, and other hardscape design services. The outdoor living areas of your Orlando, Florida property will be infinitely more beautiful and functional, thanks to our more than 25 years of experience.
Don't know quite what you want? No worries! We are happy to provide a free consultation to assess your property and provide you with a hardscaping design that fits your needs and budget. We will put together a detailed quote and send it to you via email. Review it at your leisure and reach out to us with questions you might have. We can make any modifications you request and then schedule the work once you've settled on the landscaping and hardscaping design.
We can incorporate a variety of projects to improve the curb appeal of your home, as well as your family's enjoyment. Let us know if you'd like to learn more about hardscaping, drainage services, landscaping, or landscape lighting. Call to schedule your free consultation to get started with achieving the appearance and functionality your home and family deserve.
FAQs About Hardscaping
At Greater Orlando Lawnscapes Inc., we have extensive experience in the landscaping industry, and we want to help you take your landscape design to the next level. One way we can do that is by designing and installing hardscaping elements in your existing landscape. If you have questions about hardscaping, we encourage you to keep reading to learn the answers to a few of our most frequently asked questions on the subject.
What is hardscaping?
Hardscaping is an industry term that refers to any part of a landscape design made of hard materials like brick, concrete, or stone. Retaining walls, patios, pathways, and pool decks are all examples of hardscaping.
Should I include hardscaping in my landscape design?
While you don't need to include any element in your landscape design if you don't want to, there are good reasons why you should consider including some hardscaping. First, hardscaping elements such as retaining walls and pathways will make your outdoor living space more functional—retaining walls keep the soil in place, and pathways make it easier to get around even when the ground is wet. Second, hardscaping elements create pleasing contrast with the living components of your landscape.
Can I create my own hardscaping elements?
It's technically possible to install your own hardscaping elements, but we encourage you to hire trained professionals to do it for you instead. Having our team design and install your pathway, patio, retaining wall, etc., will save you a great deal of time and energy, and you will get better results that way as well.
---
At Greater Orlando Lawnscapes Inc., we offer hardscaping services to those in Oviedo, Orlando, Winter Park, Longwood, Winter Springs, Lake Mary, Waterford Lakes, Maitland, Casselberry, Lake Nona, Sanford, and Altamonte Springs, Florida.