Need better lighting to enjoy your yard at night? We can help!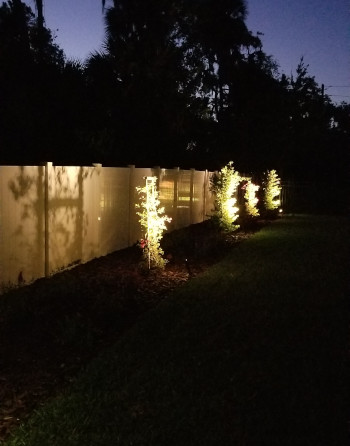 Landscape lighting can create a mesmerizing ambiance in your backyard. It also offers several benefits to your home. At Greater Orlando Lawnscapes Inc, we offer many great options for landscape lighting and take pride in helping homes in the Winter Springs, Florida area look their best and be safe.
One of the benefits of landscape lighting is the extra measure of safety and security that it provides to your home. Lighting around pathways and stairs helps prevent slips and falls for you, your family, and your guests when coming to your home after dark. A well-lit home also helps your property be more secure by keeping burglars away.
Another way in which landscape lighting is a benefit to your home is that it not only increases curb appeal, but also increases your home's value. Having a well-lit home is highly desirable to people who are looking for a new home, so they will often pay more for a home that meets this qualification.
If you are not even close to wanting to sell your home, there is still another great benefit of landscape lighting. It helps you be able to enjoy staying outside at night after the sun sets. Having a great space where you can gather outside at night and enjoy your beautiful yard is something that is greatly appealing.
Give us a call about landscape lighting today so we can show you all of the great options we have available. Your home will not only look even better than it does already, but also feel safer after our installation of landscape lighting.
---
At Greater Orlando Lawnscapes Inc., we offer landscape lighting services to those in Oviedo, Orlando, Winter Park, Longwood, Winter Springs, Lake Mary, Waterford Lakes, Maitland, Casselberry, Lake Nona, Sanford, and Altamonte Springs, Florida.