Highlight key areas of your landscaping with landscape lighting.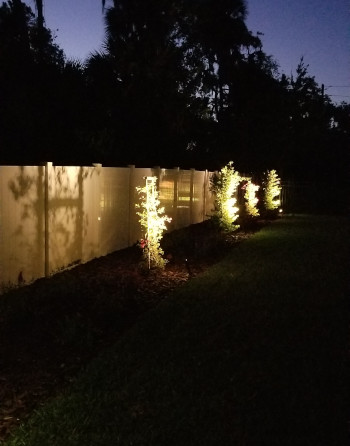 Enjoying your landscape is just one of the many reasons why people hire landscapers. Rather than having a yard or property that is just grass, some people would prefer that their landscape has definition and visual interest. Here at Greater Orlando Lawnscapes Inc., we want to help people like this create the landscaping of their dreams through all the services that we offer, including landscaping, hardscaping, drainage, grading and landscape lighting.
Living in an area like Winter Park, Florida means we do not experience many cold temperatures, so we can often spend days outside and enjoying the weather while the rest of the country hunkers down and deals with the snow. While we are not free from bad weather, we get more use out of our yards and landscapes than many others. For this reason, it is not uncommon for our clients to express interest in landscape lighting for their space.
Landscape lighting is a great way to enjoy your space all year long. Not only does landscape lighting serve to highlight certain areas of your property for more visual interest, but this type of lighting can provide many purposeful uses as well. Our team can help create landscape lighting that allows you to enjoy your yard space safely at night while also adding an element of security. Whether you want just a few highlights of your plants or various lit regions, our team can assist you.
If you are looking for an expert who can assist you with your landscaping lighting, look no further. For more information about our services or to schedule a free consultation, please contact us today.
---
At Greater Orlando Lawnscapes Inc., we offer landscape lighting services to those in Oviedo, Orlando, Winter Park, Longwood, Winter Springs, Lake Mary, Waterford Lakes, Maitland, Casselberry, Lake Nona, Sanford, and Altamonte Springs, Florida.